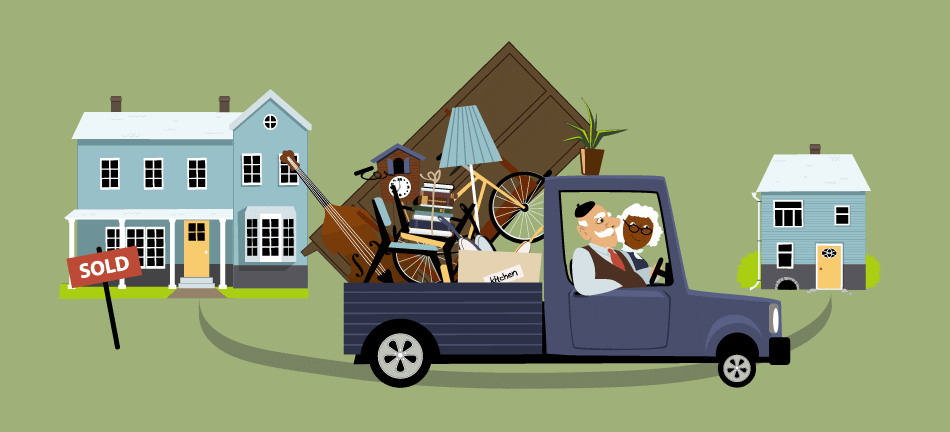 At some point, most older adults will consider moving to a smaller space. Roughly fifty-one percent of retirees ages 50 and over move into smaller homes after retirement, while sixty-four percent of seniors say they plan to stay in their current homes.
How do you decide to stay in your home or move?
Downsizing and decluttering can make life easier and safer. It can also be stressful and emotional, especially if you've lived in one place for a while.
When you downsize your house, you not only cut down on spending for frequent purchases like groceries, you often end up downsizing household bills like your mortgage payment, energy costs, and maintenance requirements.
The potential windfall in the form of home equity from the sale of your present home can help you buy a home that better suits your needs today.
Questions To Ask
If you're thinking about downsizing, consider these questions:
• Do the original reasons I bought my current house still stand, or have my needs changed since then?
• Do I really need and want the space I have right now, or could somewhere smaller be a better fit?
• What are my housing expenses right now, and how much could I save by downsizing?
• Can I afford to stay in my current home for five, ten, or twenty more years?
• Is my yard easy to maintain?
• Do I feel isolated?
• Do I have too much stuff to manage?
• Do I have a lot of equity in my home?
Why Downsize?
Knowing the benefits of downsizing may help you decide whether to move forward or not.
• A more intimate home environment. While larger homes are great when you have a family, many smaller homes offer open floor plans that also make socializing easy.
• Safety. Stairs, multiple levels, outdated bathrooms, or long driveways and walkways become more dangerous as we age. Moving to a one-floor space that's easy to access and navigate can help you age in place longer.
• Medical needs. Seniors with chronic conditions or needing more frequent medical care may need to relocate to be near their doctor or adult day care, or move into a space that can accommodate specific medical equipment.
• Better weather. One study shows that 25 percent of older adults plan to move to a warmer climate.
• More freedom. With less financial stress and maintenance responsibilities comes more freedom to live your life outside of your home.
• Simplify your lifestyle. The less you have, the less you have to maintain. A larger home also requires a larger amount of maintenance. If you are older or living alone, that upkeep can end up taking up a large amount of your time.
Bottom Line
If you're looking to save money, downsizing your home could help you accomplish your goal. Give me a call to discuss your housing goals for the coming year.
Sources: www.keepingcurrentmatters.com, raleighrealtyhomes.com, www.seniorliving.org